Documentation for Settlement
After a tank has been removed, the tank is inspected for corrosion holes and the subsurface soils under the tank are checked for contamination. If there is no evidence of a discharge a signed certification with our NJDEP license # will be issued.
Click here to view our Tank Removal Certification.
MTS is often contracted to remove underground oil tanks for properties for sale. We can complete remediation services and prepare reports quickly when necessary. Documents confirming the remediation has been completed and a report requesting a No Further Action Letter in many cases is enough too proceed with the sale.
Tank Location Services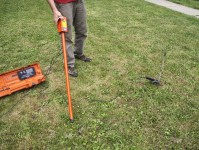 MTS will perform an interior and exterior search of the home for evidence of any out-of-service or abandoned tanks. A complete magnetometer scan of the property is employed to determine if an out-of-service or abandoned tank is present on the property. Our years of experience and specialized equipment will provide the customer with the most accurate results.
Quick Response
Often issues regarding tanks come up without notice and a fast response is required.. MTS has been serving the Camden, Burlington and Gloucester Counties for 15 years and can respond quickly when necessary. Tank tests, tank location inspections and tank removals can all be scheduled on short notice when necessary.